Where is Vertical Shaft Impact Crusher Used?
UĞURMAK brand UDK Series Vertical Shaft Impact Crushers are preferred at the last stage of the crushing and screening process.
What are the Features of Vertical Shaft Crusher?
It has high production capacity. It successfully performs the task of crushing watery, moist and sticky materials. Moreover, when such materials fed collide with the rotor rotating at high speed, it expels some of the water in its body thanks to the kinetic energy that comes out. Therefore, the resulting material is relatively dry. Thanks to these advantages, it is highly demanded for use in the production of sand, crushed stone and gravel required for concrete and asphalt production. It can be produced as mobile, fixed steel leg, fixed slide frame or pre-fed according to the design of the plant.
Closed Rotor UDK Vertical Shaft Impact Crusher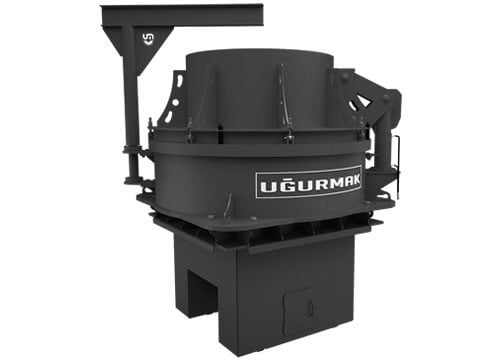 Closed rotor type UDK Vertical Shaft Crushers are preferred for crushing all stone types and highly abrasive materials. The inner surfaces of the rotor are covered with cast lining. On the other hand, there are diamonds that are highly resistant to abrasion and can be changed easily. It works on the principle of "Rock on Rock". The material fed from the circular groove falls on the distributor liner in the center of the rotor rotating at very high speed. Thanks to the high speed rotational motion of the rotor, a very strong centrifugal force is applied to the falling material. In this way, the material with a high amount of kinetic energy is transported to the crushing chamber at very high speeds such as 60 to 80 m/sec. In this crushing chamber, the upper body collides with the spilled materials from the waterfall windows, and the kinetic energy it possesses is transformed into the impact force and the size reduction process takes place. This ensures that both spare parts consumption is low and the efficiency of the UDK is very high.
Advantages of Vertical Shaft Crusher
It is resistant to abrasion for a long time.
Its size reduction rate is high.
If it is maintained regularly, it does not require extra care.
Usage Areas of Vertical Shaft Crusher
Vertical shaft crushers are used for crushing natural stones, crushing cement materials by making the material that should be small in size, and the use of tiny materials used in road construction, due to their ease of use, these machines are used to produce materials such as sand and gravel used in glass factories, agrera plants and asphalt production. It is also widely used in limestone and basalt quarries when it is desired to make the materials in cubic form, for crushing and screening plants and in areas such as reducing the size of coke.
To See Videos, Pictures and Brochures of Vertical Shaft Impact Crusher, To Get Offer:
https://www.ugurmak.com.tr/en/product/crushers/vertical-shaft-impact-crushers-udk/