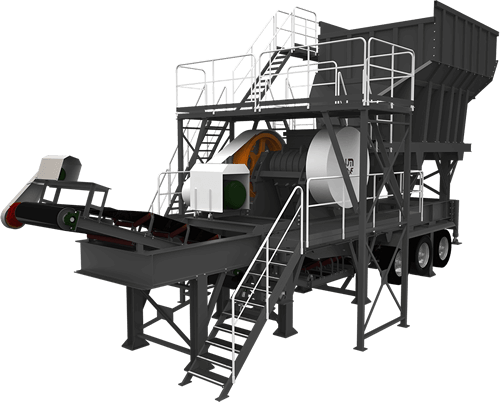 The plants that are also known as stone crushing plants and that produce the necessary materials for the building sector are called mobile crushing and screening plants. Crusher plants are manufactured with different features according to the duration of the work and the place where the work is done. These machines, called fixed and mobile crushers, are selected depending on the duration of the work.
While fixed crusher plants are suitable for long term works; mobile crushing plants are suitable for jobs that will be completed in a short time. The reason is that it can be transported to different sites by a single truck and can be installed in a short time at the site where it is transported. Fixed and mobile crushers can be produced in different production capacities to produce in different capacities.
Mobile Crushing and Screening Plant
Crushing and screening plants are plants that transform stones and rock fragments of different sizes into a form suitable for use by crushing them into small pieces. Crushing and screening plnats are organized as fixed and mobile. Fixed crushing and screening plants, as the name suggests, are fixed to a specific work area and are preferred in situations that require long-term work. Mobile impact crushing and screening plants are suitable for short-term operations. The nature of mobile plants is that they can be transported and installed easily. Immediately after the completion of the short-term works, it can be transported to different sites by a single truck and the plant can be installed on the same day. Companies choose between these plants in line with their working hours. All these plants can be produced in different capacities.
What is Mobile Crusher?
When asked what is a mobile crusher, the answer is a portable crusher, that is, a mobile crusher. These crushers are mostly used in mines. It is used to crush the stone and extract material from these stones in line with the wishes of the company that performs the work. Mainly sand, stone chips, gravel and similar products are produced. Secondary or tertiary crushers are required to obtain these materials. Thanks to these crushers, the desired material is obtained more easily and quickly. In addition, vibrating screen systems are used to separate the products extracted from mobile crushers.
If you want to explore all our Mobile Crushing and Screening Plants:  https://www.ugurmak.com.tr/en/product/mobile-units/